Featured Saint: St Maria Goretti: (1890 – 1902)
St Maria was born the third of nine children into a poor peasant family at Corinaldo, Italy. When she was 6yrs, her family were so poor that they gave up their farm, went to work as farmhands and shared a home with other families. At 9, St Maria's father died from malaria.
While living in Lazio, it transpired that another farmhand had been making regular sexual advances to St Maria which she spurned, acknowledging it as a "mortal sin". One day while others were in the fields working, she again refused his advances but on this occasion, in his anger, he repeatedly stabbed her. Aware that her wounds were fatal she forgave her attacker before she died. She was only 11yrs old.
The farmhand confessed his actions and, over time, became deeply remorseful. St Maria was canonised a Saint in her mother and her attackers presence in Rome by Pope Pius in 1947. She is Patron Saint of victims of rape and the youth.
+ In the Name of the Father, and of the Son, and of the Holy Spirit. Amen +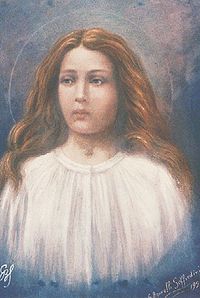 Short Story: Many people who knew Jesus when He was on earth, had tremendous faith in Him. On one occasion a man told Jesus his daughter had just died but he added, "come and lay your hand on her and she will live".
Jesus went to his house took the girl by the hand and restored her to life. (Matthew 9:18)
Thoughts: Jesus is still among us today but how often do we forget to ask for his help? How resilient is our faith?
Private Reflection: God our Father, help me to nurture and develop my faith to its full. May I never forget your constant presence by my side.
Prayers: Come Holy Spirit
Come Holy Spirit, fill the hearts of your faithful,
and kindle in them the fire of Your Divine Love.
Send forth Your Spirit and they shall be created,
and You shall renew the face of the earth.
Oh God, Who by the light of the Holy Spirit
instructed the hearts of the faithful.
Grant, that by the same Spirit we may be truly wise and
ever rejoice in His consolation.
We ask this through Christ Our Lord. Amen.
Today's Music Suggestion: Peace is Flowing
+ In the Name of the Father, and of the Son, and of the Holy Spirit. Amen +
[To view and enjoy the full Readings for today TAP HERE – Opens in a new Window]
(6th July ~ Matthew 9:18-26)