---
Extract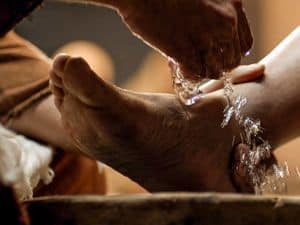 It was the Last Supper and Jesus, having washed the disciple's feet, returned to the table and sat down.
"Greatly distressed," he said, "I tell you the solemn truth, one of you will betray me". (John 13:21)
Thought
There were multiple reasons for Jesus' distress:
♦ His imminent arrest, torture, agony and crucifixion
♦ Judas, a once trusted disciple, was about to betray him
♦ Many still refused to accept his Good News
♦ Our sins
Reflection
Lord Jesus, I am sorry for having offended you, forgive me my sins.
Prayer: Priests and Religious
St Paul, great convert and Apostle,
guide all priests and religious.
Help them realise that their actions
speak louder than any words.
Teach them to use their talents
to convey God's message
but, to rely above all,
on the promptings of the Holy Spirit. Amen.
Private Moments
Music

:

 Change My Heart

… listen, reflect and enjoy.

Today's Full Readings:

Fr John's Weekly:
Almighty God, thank you for this new day. Bless me and keep me safe.
---