---
St Anthony of Egypt

(251-356)
St Anthony was born into a wealthy landowner family in Coma, Egypt. He is known by numerous titles including, the Father of all Monks, Anthony the Great, Anthony of Egypt, Anthony the Abbot, Anthony of the Desert, Anthony the Anchorite and Anthony of Thebes. He is said to have lived until he was 105yrs.
At the age of 34, St Anthony, then a Monk, disposed of all his worldly wealth and lived a life of solitude and prayer in the desert. For a period of twenty years, his home was a small abandoned Roman fort, to where people would bring him food, join him in prayer and seek his healing powers.
In 311, St Anthony travelled to Alexandria to comfort the many imprisoned Christians destined for martyrdom during the Diocletian period of persecution. While he anticipated execution for doing so, it didn't happen.
St Anthony is often referred to as an early hermit, although he interacted with his many followers and preached the Gospel. Saint Athanasius, his biographer, said, "Anthony was not known for his writings nor for his worldly wisdom, nor for any art, but simply for his reverence toward God".
Following St Anthony's death, a Coptic Orthodox monastery was built by his followers in the Eastern Desert of Egypt in his honour. It continues to thrive as a religious and pilgrimage centre today.
St Anthony's Feast Day is 17th January. He is the Patron Saint of skin diseases including, shingles.
---
---
Extract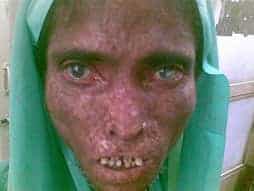 A leper came to Jesus for help. Falling to his knees, he said, "If you are willing, you can make me clean," … moved with compassion, Jesus stretched out his hand and touched him". (Mark 1:40-41)
The cured leper couldn't contain his joy, he told everyone whom he met, what Jesus had done.
Thought
Our bodily sufferings we place in your hands, Lord. Our words and our faith, we rejoice in the knowledge that your Gospel will always be our constant guide.
Reflection
Lord Jesus, may we never fail to thank you, for the endless daily help that you bestow on us.
A Prayer – 

Faith (St Benedict)
Gracious and Holy Father,
give us the wisdom to discover You,
the intelligence to understand You,
the diligence to seek after You,
the patience to wait for You,
eyes to behold You,
a heart to meditate upon You,
and a life to proclaim You,
through the power of the Spirit of Jesus, our Lord. Amen.
Private Moments
Music

:

All To Jesus I Surrender

… listen, reflect and enjoy.

Today's Full Readings:

Fr John's Weekly:
Almighty God, thank you for this new day. Bless me and keep me safe.
---