The Rosary is generally said with the aid of Rosary beads.
Here's how: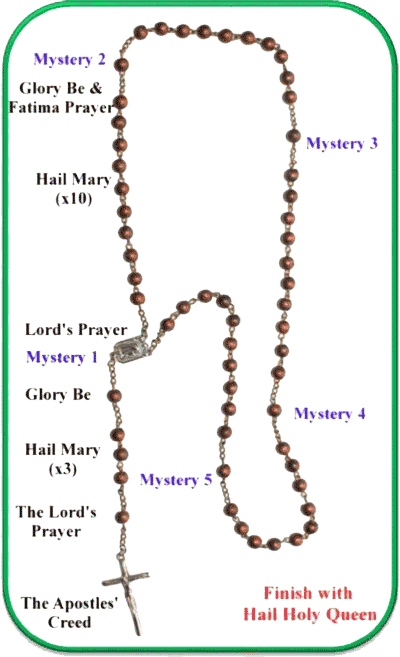 1. Start with The Sign of the Cross, while holding the crucifix, followed by The Apostle's Creed.

Then using the next five beads say one Our Father, three Hail Mary's and a Glory be.
Glory be to the Father, and to the Son, and to the Holy Spirit as it was in the beginning, is now and ever shall be, world without end. Amen.
2. Now choose the set of Mysteries you wish to use, state the first event, reflect on its meaning and, using the first set of ten beads say the Our Father, ten Hail Mary's, a Gloria Be and the Fatima Prayer.
O, My Jesus, forgive us our sins, save us from the fires of hell; lead all souls to Heaven, especially those in most need of Thy mercy. (Fatima Prayer)
Repeat the same process for the remaining four mystery events.
3. Finally, to conclude the rosary, say the Hail Holy Queen.
… Mary, Queen of Heaven: Pray for Us …