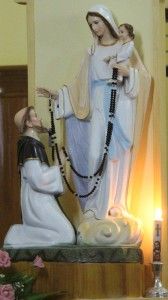 The Rosary is a formalised prayer routine often said with the help of rosary beads. It is traditionally attributed to St Dominic (1170-1221) who founded the Dominican Order. Although prayer beads were already in use for probably many centuries before St Dominic's time, it is believed that he preached its use following a vision from The Blessed Virgin Mary who was holding rosary beads in her hands. In more recent Marian visions, Our Lady has continued to promise her very special protection and blessings on all those who recite the rosary.
Rosary Mysteries
There are four groups of Mysteries, the Joyful, Sorrowful, Luminous and Glorious. Each group recalls major events in the life of Jesus and the Blessed Virgin Mary. Pope John Paul II suggested we pray each of the four Mysteries on the following days:
Joyful Mysteries  – Monday and Saturday
Glorious Mysteries – Wednesday and Sunday
Luminous Mysteries  – Thursday
Sorrowful Mysteries – Tuesday and Friday
Enjoy your Rosary with Mary and Jesus.
Recite a Mystery: