+ In the Name of the Father, and of the Son, and of the Holy Spirit. Amen +
A Repentant Sinner
Story: Mary Magdalene was a beautiful but sinful lady. When she met Jesus, he cast from her, several demons. Mary then transformed her life and became one of Jesus' most loyal followers.
Once, while Jesus was at supper with a rich man, Mary anointed his feet with expensive oils and, as her tears of sorrow fell on his feet, she wiped them dry with her hair.
Mary followed Jesus to Calvary and remained at the foot of his cross, unlike most of his disciples who went into hiding!
Early on Easter Sunday morning, Mary, with other women, went to anoint Jesus' body. They found the tombstone rolled away and Jesus' body gone. Weeping, Mary looked into the tomb and saw two angels, one at each end of where his body should have been. "Woman, why are you weeping?" the angels asked. Mary replied, "They have taken my Lord away, and I do not know where they have put him!" Mary then turned around and saw someone whom she at first thought was a gardener and said, "Sir, if you have carried him away, tell me where you have put him, and I will take him." Jesus said, "Mary." Immediately, realizing that it was Jesus, Mary greeted him with the title, "Rabboni" – which means Teacher.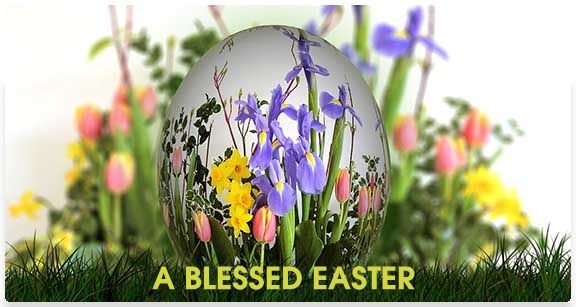 Thoughts: Lord Jesus, you chose Mary Magdalene to be the first person to see you as the Risen Christ. May I, a repentant sinner, also see you one day in your glorious splendour?
Prayer: Resurrection by St Bonaventure
Rise, beloved Christ,
like a dove rising high in the sky,
its white feathers glistening in the sun.
Let us see your purity of soul.
Rise, like a sparrow,
keeping constant watch over its nest of little ones,
watch over us all day and night,
guard us against all physical and spiritual danger.
Rise, like a turtledove,
hiding its offspring from all attackers,
hide us from the attacks of evil.
Rise, like a swallow,
swooping down towards the earth,
swoop down upon us
and touch us with your life-giving Spirit.
Look, Listen and Reflect: Holy Family
⇒PAUSE and talk … to Jesus
+ In the Name of the Father, and of the Son, and of the Holy Spirit. Amen +
(22nd July 2015 ~ John 20:11-18)